An interview with Reilly Brown: «I think our Lobo comic is an example of how to do a new version of the character right»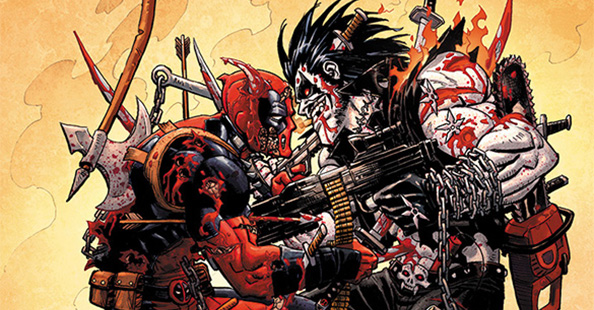 Reilly Brown has developed for over a decade his artistic work, starting at Marvel, working on series like Deadpool or Incredible Hercules. He also has worked on projects like St. George for Dark Horse, his creator-owned series Power Play or the recent Lobo relaunch for The New 52 initiative at DC Comics. Furthermore, he's been a pioneer at taking advantage of the digital platform with his Power Play series and helped lead the Marvel's Infinite Comics platform.
I had the chance to do an extensive interview with this talented artist, who shared his vision of what it is like to work in the comic book world, his thoughts about reboots and how it was the experience at living one from the inside, as well as past and future projects.
Juan Pablo Armstrong: At what age you decided to become a comic artist?
Reilly Brown: Very Young! I'd always wanted to be some form of artist, and comics in particular have always interested me. As a kid I used to make comic strips about funny animals, especially a lot of porcupines accidentally popping their word balloons. When I turned 11 and started getting into superheroes, I started making more action-packed comics.
JPA: Was it difficult for you to break into the industry? Where did you made your big debut?
RB: Breaking into the comic industry is always an exercise in frustration! Sending samples into publishers, not knowing if anyone's looking at them, traveling to conventions and waiting in long lines for portfolio reviews, just to hear an editor say that they're not interested... It's tough! You have to be willing to put up with a lot of punishment. Or at least, that's how it seems. The real punishment doesn't actually start until you start getting work!
I got my first break in the Marvel Holiday Special 2005. That was a fun one because it involved so many characters. A lot of them, like She-Hulk and Yellowjacket, I don't think I've drawn since!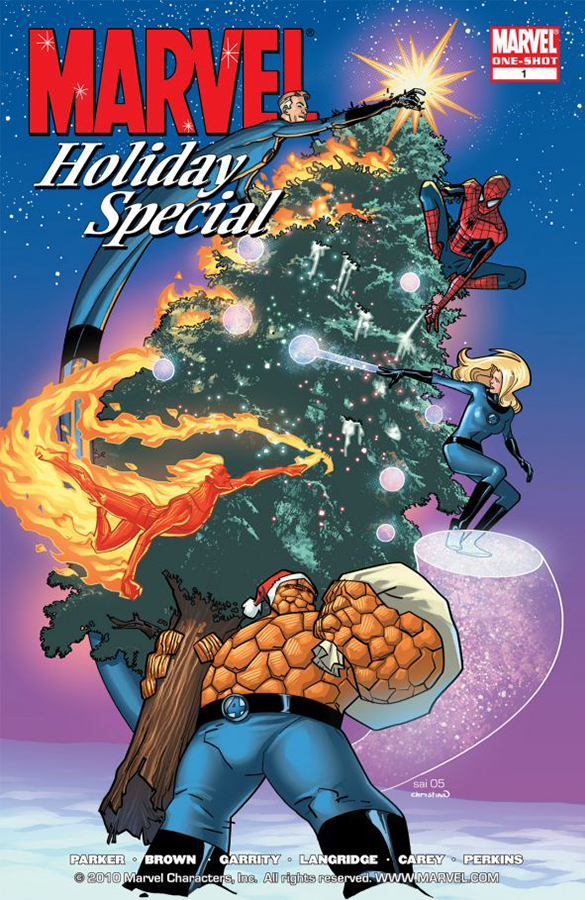 JPA: Who or what are your biggest influences?
RB: I'm influenced by so many things it's hard to know where to start. Growing up, Jim Lee's X-Men was a huge influence on me. I could not get enough of them! A lot of video game art as well, particularly Street Fighter.
JPA: What are your essential tools to draw?
RB: Pentel 120 .3mm mechanical pencils, which I just learned has been discontinued, and am kind of freaking out about! I use one with an H lead, and one with HB, and a kneaded eraser. As long as I've got those I can tackle most drawings.
JPA: How is your work process? Do you have a pipeline to follow every time or it depends on the project?
RB: My process is always evolving, as I adopt new techniques and equipment, and replace others. These days I usually start by thumbnailing the drawing out on my iPad in Adobe Ideas, usually while on the train going in to the studio. I then print the thumbnail out at full size on typing paper, and use a light box to transfer the sketch to Bristol board where I proceed with the final drawing.
If I'm doing one of my digital comics, there's another step afterwards of laying everything out in Photoshop to make sure it reads properly.
JPA: On 2011 you started a digital creator-owned comic with writer Kurt Christenson, called Power Play. What can you tell us about this project? Is it still ongoing?
RB: Power Play came about when I first met the guys who run ComiXology, and thought it would be a really cool platform to make some unique comics. It's about a bunch of kids who have powers, but rather than trying to fight crime or take over the world, they start an extreme sports league. No kid who got powers today would even consider having a secret identity, they'd be posting videos on YouTube and showing off! So that's what our characters did, and it was really a lot of fun. One of the important parts of the series was that it was among the first comics to utilize ComiXology's Guided View technology as a deliberate part of our storytelling technique, and it's one of the things that inspired the creation, and led to my work on, Marvel's Infinite Comics platform.
Power Play is on hiatus at the moment, as Kurt and I are both too busy with other things, but I'd love to get back to it some day.
JPA: You also worked on the digital-first Deadpool: The Gauntlet, where you explored the possibilities of digital comics in very interesting ways (man, that intro!). How different is it going from print to digital and vice versa, and what have you learned from these experiences?
RB: Yeah, The Gauntlet was a lot of fun, and it was great to work with Brian Posehn, Gerry Duggan, Nelson DeCastro, Jim Charalampidis and all the other guys who helped out on the book. We did some really cool things with that comic, and introduced some fun new characters.
When I'm working on a comic, I really like to focus on giving the reader the best experience I possibly can, and to me, that means making the most of the format that the comic is going to be presented in. Far too many people who release their comics digitally are mainly interested in how it will be presented in print, even if they don't actually have plans for a print release. That's so backwards!
For digital comics, I really like to focus just on what the digital platform can do, and pay no attention to how that could possibly or impossibly translate to print. That frees me up to do some really fun things that can't be done in more traditional media, like the intro you mentioned, or how I introduce the characters in Power Play, or things like that. Also, as an artist, it's a fun and exciting opportunity to play around with new storytelling techniques that aren't as well trodden by so many other creators of past generations. It's a chance for me to be unique.
However, doing all this stuff that would be impossible in print kind of bit me in the rear when Marvel decided that they wanted a print version as well. Yikes! So I cut and paste the work I'd done together into traditional comic pages, and it took a bit of bubblegum and duct tape, but it ended up looking good, and all seven issues were in the top 100 comics for July and August. So that was a pretty satisfying validation for my method of doing things.
JPA: In recent years the digital industry has seen a huge growth, with ComiXology as the main platform. The launch of The New 52 brought every comic in digital on the same day as the print version, that all the other publishers had to match and was crucial to this growth. In which way do you think this changes the industry?
RB: Besides opening up the potential for artists like me to do things like The Gauntlet and Power Play, I think the real benefit of ComiXology has been making it easier for people who don't live near comic book stores to get into comics. There are so few places to buy comics that, even with the rising interest in superheroes due to the movies and TV shows, it can be a real struggle to get these things into people's hands. With ComiXology turning smartphones and tablets into such great comics reading experiences, it's turned a lot of new people into fans.
I'm sure you guys in other countries have benefited from that as well!
JPA: You're co-founder of Ten Ton Studios, where you share names with the likes of Chris Burnham and Nick Pitarra. What can you tell us about it?
RB: Ten Ton started as just a group of artists who met online and would go to conventions together, and share information and job leads, but over the years we all started getting gigs, and have made a bit of a name for ourselves to say the least! Besides the artistic careers of our members, Ten Ton has also become a pretty good message board and online resource for aspiring comic artists. You mentioned Nick Pitarra, and he actually started off as someone who would post his artwork on our message board for critiques, and look where he's gotten himself with The Manhattan Projects. It's great to watch these artists come up through the ranks like that, and to participate in that even in a small way.
JPA: I know you had worked on studios like Outpost 51 and Hypothetical Island. What are the benefits of working in this kind of environment versus, say, your own home?
RB: Yeah, right now our studio's called Hypothetical Island, and I work alongside Khary Randolph, George O'Connor, Ellen Lindner, Jason Little and Ada Price. All amazing artists who bring experience from different areas of the comics world. I still have a studio in my home and work there on occasion, but working all alone everyday will drive you a bit crazy, so I've always liked the idea of getting artists together in a studio situation. We can share ideas and experiences and give each other feedback. It's a really great setup.
JPA: What kind of things do you look for to accept a new assignment?
RB: There are a lot of things to consider when I'm looking for or get offered a new assignment. One of the most important is probably schedule. Obviously it's got to be something that doesn't get in the way of a project I'm already working on, or interrupt plans I already have. That may sound obvious, but you have no idea how often I'm asked to make six-month or longer commitments at the drop of a dime.
If the project fits in my schedule, then I have to consider the budget, which, as you can imagine, is a pretty major factor.
Something else to consider is how marketable I think a project is, which is to say, do I think it's going to be a success that people will remember, or will it just peter out without anyone paying attention?
And of course, probably the most important thing for me to consider, is how interesting I find the project. How excited I am by it. I've found that the projects I can get most excited about from the very beginning are usually the ones that end up being the most popular, and can lead to multiple reprinting, which means that even if the budget isn't that high up front, I make up for it over the long haul, so I've learned to trust my instincts about things like that.
JPA: You've been drawing the new Lobo ongoing, with the all-new, all-controversial Lobo, or "Twilight Lobo" as some hardcore fans have been calling it. I'll guess you knew beforehand all the controversy this new design by Kenneth Rocafort would bring the moment you came along for the series. Did you find it intimidating or specially challenging, knowing a lot of fans would be bashing against you about this character change?
RB: Oh yeah! Oh, me and Cullen [Bunn] were fully aware of what we were getting into when we came on the series! We're both huge fans of the original character, but the assignment was to use this newer version, and try to get some new fans for him, so that's what we did.
I'd still love to do more with the classic version of the character if I ever got the chance.
JPA: This new take on the character also represents an opportunity to basically develop the character from the ground up. What were you most exited about to bring to this new take?
RB: I really liked coming up with challenges that could pose a threat to Lobo. When you have a character who can recover form any wound, it can be hard to find something that's a real challenge to him, so my favorite part of the series was designing the villains. That was a lot of fun, and there were some really interesting concepts to play around with there. I think Snake Omega might have been my favorite.
JPA: At first you were very vocal on Twitter about disliking the idea of a reboot over at DC. Now that the waters has settled and you're working on a character being drastically altered because of this reboot, what are your thoughts on the subject?
RB: I'm not sure my opinion has changed all that much. Honestly, I'm just not a very big fan of alternate realities and things like that. I don't remember what I said at the time, but I'd probably say the same thing about Marvel's Ultimate line. That said, I think our Lobo comic is an example of how to do a new version of the character right, which is to say, you keep the original version around, and just introduce an actual NEW character. Not an alternate reality version of the same guy, but an actual new person to star in the book. That way the fans of the original version still have what they've always liked, and the people who like parts of the old version, but want to change other parts can have what they like as well.
One of the benefits of doing things that way is that you can then have the two versions interact, as we did in the beginning of our series.
JPA: You did a lot of work for Marvel, mainly with Deadpool, and now you're at DC doing Lobo. Both characters share some similarities that helped ease the transition, so to speak, but how big of a change was to go from one company to the other?
RB: Actually, at this moment I'm done with my commitments for Lobo, and I am working on a few other projects at this time, which are mostly too early to talk about, but I can mention that I'll be doing covers for a Deadpool-related series titled Mrs. Deadpool and the Howling Commandos, which stars Shiklah who was introduced in me and Gerry Duggan's Dracula's Gauntlet series.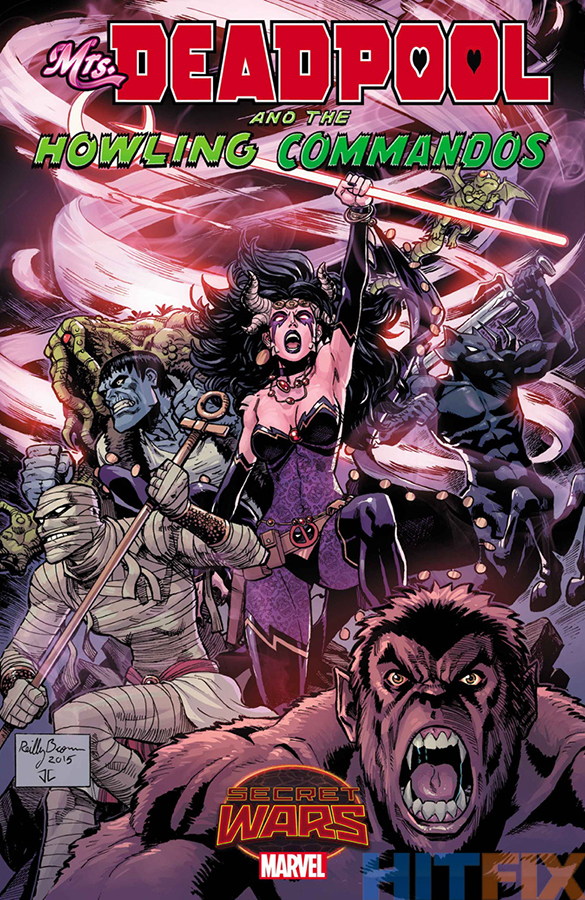 But anyway, to answer your question, both companies have their own way of doing things, and I can appreciate both. DC tends to be a bit more hands on, and requests more communication between the creators and editorial and such. More sharing ideas, more feedback. Marvel's a little more hands off, allowing me to do what I want, but that also requires me to be more self reliant.
It's not a major change, but it's a subtle one that effects a lot of day to day things.
JPA: You also did a couple of years ago on a story called Saint George: Dragonslayer with Fred Van Lente for Dark Horse Presents. You worked with Van Lente before at Marvel, so how this collaboration came to be?
RB: Yes sir, and I'm actually working on some St. George stuff at the moment. Me and Fred first met when we were working together on Incredible Hercules, and Prince of Power. He lives the next neighborhood over from my art studio, so we used to get together for lunch to talk about story ideas, and that just seemed to continue even after we were done with our Herc stories, and thus St. George was born.
JPA: Let's change to something more lighthearted: here in Chile, Deadpool is a big hit. Why do you think is that? What makes Deadpool so attractive to some readers?
RB: Deadpool simply exudes sexiness. There's just no way to break his spell.
I think one of the fun things about Deadpool is that you can do a lot of fun and goofy things with him that you can't seriously do with other characters, so that makes him unique.
JPA: What do you know about Chile? Do you speak some spanish?
RB: Heh, I took years of Spanish in high school, but unfortunately I didn't retain much of it. Just enough to get me in trouble!
JPA: Is there a writer that you would love to work with and haven't yet?
RB: There are a bunch of writers I'd like the chance to work with, mostly guys who understands what makes a great character, and who's characters seem unique and individual. Dan Slott, Rick Remender, Charles Soule and James Tynion IV are names that jump to mind, but that's probably because those are the writers on the most recent comics I've read. There are a lot of awesome writers I'd love to do things with!
JPA: Would you like to try and write your own stories, maybe for another artist? What would you like to write about?
RB: I'd love to do more of my own writing. I've done some of that back in my Cable & Deadpool days, and on my creator-owned comic Power Play, which I co-write with Kurt Christenson. And I might be working on a few other story pitches at the moment, we'll see...
JPA: What is the most difficult thing for you to draw? And the most enjoyable?
RB: The most difficult thing to draw is always the thing I've never drawn before, especially complicated things I've never drawn before. Once I've got some experience drawing them, and I understand how they work, everything can get much simpler, even if some things take longer to draw than others.
My favorite thing to draw is always people. I like drawing conversation scenes where people are reacting to each other and expressing emotion, and I like to draw complex poses that take a while to figure out how to make the body move.
JPA: You're big into action, fights and big guns in your stories. Is there a genre that you'd like to explore, like horror or noir?
RB: I really love sword and sorcery stuff. It's a genre you'd expect to be much more popular in the comic book world, but strangely there aren't all that many books devoted to it.
JPA: Playtime: who do you think would win in a battle, Deadpool or Lobo?
RB: Ha! That battle would never end! I think the only way there'd be a winner is if Lobo got so frustrated with Deadpool that he'd blow up he whole planet and take off for another galaxy. Lobo does stuff like that.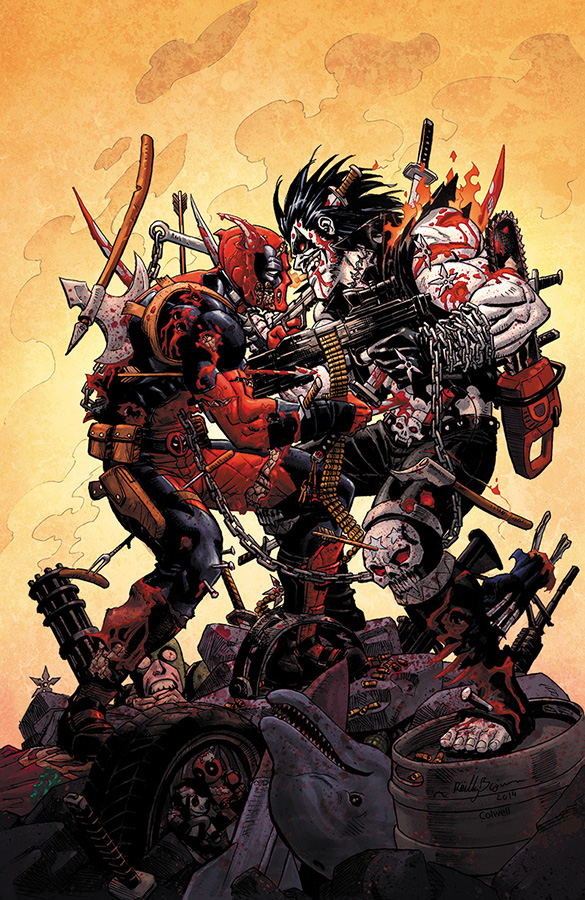 JPA: This is a typical question, but which comics are you currently reading? And, maybe more interestingly, why? Is it the creators, the premise or something else?
RB: Ironically, It's hard to read many comics when you're actually drawing them! There's just not enough time! That said, I do manage to keep up with a few. I really love what Dan Slott's been doing in Spider-Man. He seems to be able to come up with fun new story concepts that I've never seen before in the series, and that's pretty impressive for a book that's been going on for as many decades as it has been. Also, all the artists on that book have been incredible! I read X-Men, but mostly out of habit. It's the first comic I started reading as a kid, and can't bring myself to let it go! I'm a bit behind, but Invincible is one of my favorite comics. [Robert] Kirkman and [Ryan] Ottley do such a great job there. Ottley makes me jealous on every page! I've also been getting caught up with Blade of the Immortal by Hiroaki Samura, which I love because it really explores the limits of the characters and their abilities in a fascinating, if gory, way. To me, that's what really makes a great book about someone with super-powers, and I'm kind of surprised about how few American comics do that these days.
JPA: Finally, what do you have in store for the future? Any new projects that you want to tease your fans with?
RB: I've got a few things in the works, but the ones I can talk about are that I'm doing covers for Mrs. Deadpool and the Howling Commandos, and working pages for more Saint George: Dragonslayer.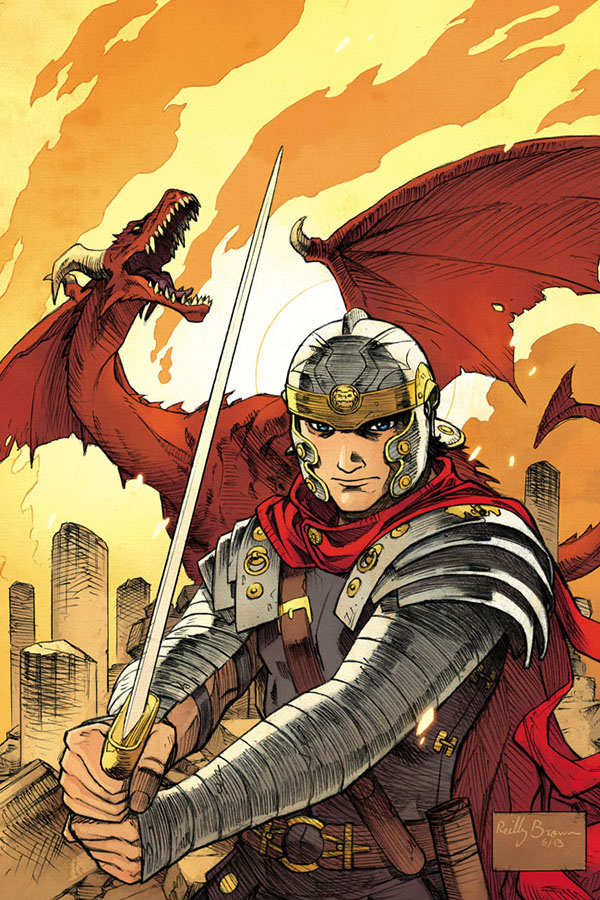 JPA: Where people can find you online?
RB: I'm all over the place online. You can find me on Twitter at @Reilly_Brown, on Tumblr, on DeviantART and on Facebook.
Also you can check out the message boards at Ten Ton Studios and I give critiques at the Comics Experience Creator's Workshop as well.
JPA: Thank you so much for your time.
RB: My pleasure!