An interview with Zach Howard: «Express what's in you, that's how you become a great artist»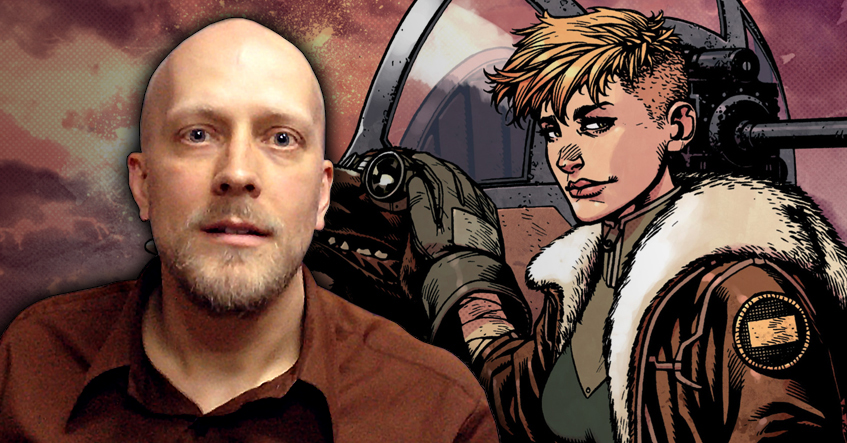 Last week, we went to FIC Santiago 2016, the one truly comic book event here in Chile. With great international guests and lots of chilean comics in the spotlight, the event put together some talks for the artist to do and we, as a site, went to see Zack Howard. He's an amazing artist and a wonderful person. In this interview, he tells us about Wild Blue Yonder and some other things about himself and the comic industry.
Thanks for your time, kind words and for being awesome with us, Zack!
---
El Multiverso 52: How did you started making comics?
I was going to school for Sculpture, and to graduate I had to take an illustration class, and the professor liked my drawings, and I loves comic books since I was a kid, so he took me to a comic book convention and showed my work, and some people liked it, and it encouraged me so for two and a half years I drew and drew, until I got good enough for companies to hire me.
MV52: How old were you when you was first hired?
24.
MV52: And you never thought of doing comics before?
I did when I was young, but then I joined the marines, got out, went to college and by then I didn't really — I didn't knew how to get into it, I didn't know anybody that did it, so I just started sculpting. It was chance that I became a comic book artist.
MV52: Who has been an artistic inspiration for you?
My two biggest inspirations are Frank Miller — old Frank Miller, I think he's a pop person now, I don't know what's going on — and Mike Mignola.
MV52: Which has been you favourite work?
Wild Blue Yonder, my last book. That one is mine and it came from my heart.
MV52: What's different about it from your other work?
It's personally mine. I enjoy every — most — [work], but I like telling my own stories.
MV52: What's the story of Wild Blue Yonder about?
Wild Blue Yonder it's about a young girl, Cola — [it's] like Mad Max but with jets. They can't live on the ground anymore, it's too poluted, so the people that can get up in the air, do, but they're running out of fuel so they're starting to all kill each other, and she's trying to survive in that world.
MV52: That sounds crazy! And which has been the most difficult work for you?
Wild Blue Yonder, because it's so personal, I keep drawing and drawing and drawing and tried to make it as amazing as possible.
MV52: How much time did it take you to finish it?
It took me two and a half years to do.
MV52: Have you seen the work of the chilean comic book artists?
I'm friends with Gabriel Rodríguez, I met him many times and we became friends in San Diego Comic Con. And then my favorite person alive, Nelson Dániel, he colors my work so we met online. Because of them I got exposed to many others.
MV52: And what do you think about it?
It's amazing, because we're so far away you're not exposed to it, so it's really interesting to see. What I like best about chilean artists is they all seem to be different, they don't seem to be copying each other, they're kinda doing their own thing which is what I like to do, so I kinda feel like kinship with them expressing themselves, which you don't get a lot in united states' comic books.
MV52: Do you have any advice for aspiring chilean comic book artists?
I think that the thing they don't teach in art school is to be honest with yourself. Most people wanna do what's gonna be popular or what they think will attract work, but the most successful artists I ever met in my life are people that everything comes from in here, there's nothing else, it's what's inside you coming out. Express what's in your heart and your head, that's how you become a great artist. If you think of all the great artists in history, they're unique because only you are behind your eres, so let that out rather than copying somebody else or trying to be somebody else. The reason you're attracted to those famous artists is because they were themselves, so follow you heart, and if you do that and work hard and never quit, you'll make it. I promise.
MV52: How was it to work with Joe Hill?
Oh, Joe, he likes to beat me with sticks [laughs]. He might be the nicest writer in comic books, he's very good with his fans. I've worked with many people that it's a burden for them to interact with the fans, where Joe Hill, [he's] super popular and the line would be 300 people long, and he would take a picture with each one, he'll shake hands, he'll try to make it a personal experience, and I've never met somebody that does it like that who's that popular. When they get that popular it's usually an assembly line, [while] he takes a moment with each person, makes it feel special.
MV52: Who has been the most difficult writer to work with?
You're gonna get me in trouble! I can't answer that, it'd cause drama.
MV52: Maybe a nameless experience, so you don't get in trouble?
Sometimes when I do superhero work it makes me really sad, because everybody just wants to go as fast as possible and make money, and that's fine, but I'll rather — I want my books to be on the shelfs long after I'm dead, so I put everything into them and it's hard. Writers want their books done now, like, immediately, and I can't work under that, so sometimes, you know, they want my artwork but they're not patient enough for me to do it, and those type of relationships become difficult sometimes.
MV52: What do you have prepared for the future? What are you working on right now?
I'm doing another book of mine called Buck, and it's about a rabbit. It's like The Lord of the Rings but with rabbits and ferrets fighting each other.
MV52: That sounds amazing! Why rabbits?
Why not? I've had 16 years of drawing people, so why not animals now? My wife is a veterinarian so we have lots of animals in our lives. I like to challenge myself, I don't like to do the same thing twice, I get really bored, that's why I have trouble doing superheroes, because it's the same thing all the time and I get bored, and that's where something like this I'm passionated about so I just follow my muse.
From the pencil case - A space to know a more about the interviewee
MV52: Favorite comic book.
Sin City.
MV52: Favorite artist.
Mike Mignola.
MV52: Favorite writer.
Alan Moore
MV52: Favorite superhero.
Batman.
MV52: Favorite comic book character.
The Hulk.
MV52: Favorite publisher.
IDW Publishing.
MV52: Favorite comic book based movie.
It would be Shaun of the Dead but I drew that so… Road to Perdition.
MV52: Favorite movie.
Conan the Barbarian.
MV52: Favorite music band.
Pearl Jam.
MV52: Favorite color.
Azul [blue].
MV52: Winter or summer.
Summer, most definitely.
MV52: Coke or Pepsi.
Coke.
MV52: Favorite animal.
Perro [dog].
MV52: McDonalds or Burger King.
McDonalds.
MV52: Star Wars or Star Trek.
Star Trek.
MV52: Team Captain America or Team Iron Man.
Iron Man.
MV52: Barry Allen or Wally West.
Wally West.
MV52: Batman or Superman.
Batman.
MV52: Comics in color or black and white
Color, but only because Nelson Dániel colors me.