[FIC 2016] An Interview with Adriana Melo: «If this is what you want, you need to keep trying»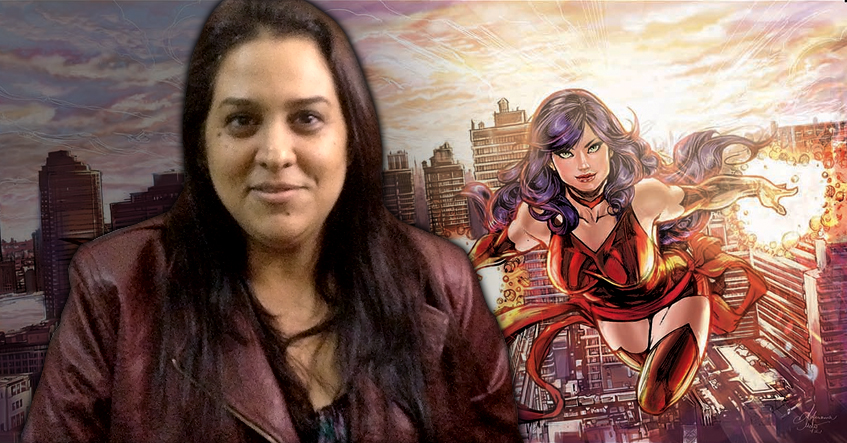 Adriana Melo is a known Brazilian artist who has worked on things like Star Wars: Empire, Birds of Prey and Witchblade.
She is currently working on the ongoing comic book series of the 9th Doctor (wink wink, you can read the review on this link), Adriana took a little break to chat with us about her influences, how is to work in Doctor Who, be a woman in the comics industry and more.
Humble, nice, with a really inspirational speech and an incredible art, we invite you to read our interview to this great artist.
Back to the studio!
---
El Multiverso 52: Which were your biggest influences to become a comic book artist?
Adriana Melo: The first artist I fell in love with was Alan Davis, the one that did Excalibur. I see Excalibur today, like the one that made me fell in love with comics, and decided to work with it.
Back then, I still want to do this, but back then, I wanted to go less cartoony and more realistic on my pages, so I used him and Adam Hughes as references for everything.
They are still really, really important in the things I do.
MV52: How is it to work in something that is so popular like Doctor Who, where you also need to draw real people?
AM: It has been a completely different experience from everything, because everyone that buy a Doctor Who comic book, is really, really passionate about it, so, I feel that the expectations are so high, that I have to work twice as much, as harder, to fulfill the expectation. And, since I'm a Whovian myself, I'm the first one, you know, to look at my work and say "OMG! This is not looking like Rose", or "the Ninth Doctor would not laugh like that".
Usually, superhero fans, they usually pay more attention to the story, after that, to the storytelling of the penciler or the artist, and less will they think about if the people look good, or close-ups, or things like that, but when you work in a book with such a passionate fandom, the first thing everybody looks, is the likeness, if you are achieving the likeness for everyone. And I just realized it now, reading the first reviews, the first thing, in every line of every review, were if the likeness was a point or not, that's the biggest different.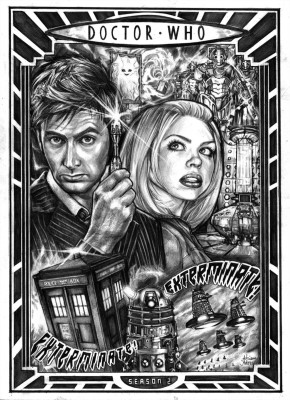 MV52: Have you read some chilean comics?
AM: No, sadly, my first contact with the chilean comics was at the FIC Awards, but I'm coming back to Brazil with a couple of chilean comic books, and I'm going to keep my eyes on you.
MV52: Have you felt left out in the industry for being a woman?
AM: Usually editors are really straightforward, at the deadline, and the quality, so once I can do my thing in the best and fastest way possible, they really don't care.
But, with fans, the thing is that every time I went to a comic book forum, they were comics not only about my work, but about the way I look, and I read some really childish comments, because nobody expects Adam Hughes looking like his art.
But is the only think where I see a difference.
MV52: Do you see more feminine presence in the industry and between the readers?
AM: Yes, I'm actually really happy, on Twitter I follow a lot of artists from Asia, Brazil, South America, etc., and I'm really happy because I see year after year the number of woman in comics only increases, and more and more girls saying that they want to do this and work with comics, and you can see that the wall is crumbling down.
MV52: Back then, the design of the female characters was really stereotypical, but lately with new character designs like Ms. Marvel, Squirrel-Girl and Batgirl, we are seeing different types of bodies. What do you think about it?
AM: I think it's fantastic! At first the girls in comic where mainly, I think, an object, they didn't think a lot about of the character. Like, when I started, back then, 80% of what mattered on a female character, was her body. She had to have the right size and the right amount of curves and there's a word for a frame that was called "butt-shot", and they used it a lot. But now, the editors are the first ones that say "no butt-shots". And I think is fantastic, I actually can see things moving, things changing, and I'm pretty sure because the editors had woken up, they realized that the number of girls that are reading are increasing, day after day, and that their opinion matters.
MV52: Do you have any advice to new artists, mainly for new female artists that want to enter into this industry?
AM: Yes! If you are a girl and you want to work with this, you will need some time, everybody will need some time, to get in touch with artists and editors, so the people that you get in touch with, another fans or another boys that want to work with that, will try to crushing you, not everyone, but a big number of guys.
But, once you get in touch with pros, you don't have to worry. And, I have to say, If you are a boy or if you are a girl, keep trying, the beginning in everything is always really hard, because there is a lot of people that want to do the same that you want to do, and there is going to be a lot of people saying that "this is impossible", "this is not a job", "is a waste of time", "this is not for you". But, keep trying, if this is what you want, and if you have talent, you need to keep trying. Use the internet, get away from the negative side from the people that try to pull you down and put your focus on the positive things, good people to give you feedback, good places to get the knowledge or basis, structure, how to do good storytelling, and, do not feel down for the first "No" you get. Because before you get the "YES", there's going to be a loooooot of "NO"s, and I mean, a lot of really awesome artists just stopped, because before they get a career they hear "NO".
Just keep trying, and use Facebook, twitter, etc., to get in touch with nice and good artists, because there is a lot of people willing to help you, even if they are pros, there is a lot of people that are really open to give advice, say good things, so, do not quit, do not give up.
MV52: Which one has been your favorite work as an artist?
AM: I think, Doctor Who, because I'm doing the covers, I'm doing storytelling, I'm doing the pencils, I'm doing ink. Because I love the characters, I have a lot of freedom with the script, I chat with the writer almost every day, so, and I never had something like this before.
MV52: To finish, who is your favorite Doctor?
AM: Oooh… Tennant!! Ninth is my baby, I love Ninth.
From the pencil case - A space to get to know more about the person behind the artist
Favorite Comic: Excalibur
Favorite Artist: Alan Davis
Favorite Writer: Mark Waid
Favorite movie based on a comic:  Avengers
Favorite Superhero: Wonder Woman
Favorite Comic Book character: Nightcrawler
Favorite Publisher: Marvel [whispers]
Favorite Movie: Lord of the Rings
Favorite TV Show: Friends
Favorite music band or singer: A-Ha
Favorite Color: Red
Winter or Summer: Winter
Coke or Pepsi: Coke
Favorite Animal: Cats
McDonalds or Burger King: Burger King
Star Wars or Star Trek: Star Wars of course!
Captain America or Iron Man: Oh, I'm sorry Tony Stark but Captain America
Barry Allen or Wally West: Barry Allen [whispers]
Batman or Superman: Superman
Comic book in color or Black and White: Vagabond is my favorite manga ever, but colors